Trusting your most valued asset to a Broker is a decision that will determine your market reach as well as the experience you personally have with the sale process. It is important to have a "partnership" relationship with your Broker as many decisions must be made along the way and a lot of information needs to flow from you through your Broker to prospective Buyers. List with us and experience the attention to detail that sets us apart from our competition. Work with us to identify opportunities that your property, the market, and your families situation can capitalize on.
NATIONAL AND GLOBAL NETWORK OF BROKERS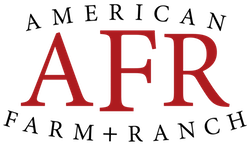 Selling With Powers
Fill out the form below to receive more information.
A robust web presence is essential to decreasing time on market and increasing competition among Buyers. We drive traffic to your property detail page through e-blast marketing, social media, print media, and relationship brokering. We use Facebook, Twitter, Linkedin, and Vimeo. Your property is not only marketed at www.powerslandbrokerage.com. We also feed our listings to 200+ affiliated sites so that if a Buyer is seeking property with your attributes they will see it many times in many places.
Like two ranches, no two ranch brokers are alike. If you are interviewing brokers, as you should, ask them questions about how they prepare and present information about your property. How can a broker be effective at marketing your property if they don't know important details such as water and production; boundaries and history; easements and improvements; hunting and fishing. Our brochures use professional photography, graphics, and layouts that are the next best thing to being on the property. The imagery creates a feeling of being there, while conveying the important features that differentiate it from competing properties. The narrative details are easy to read and enticing enough to trigger the next step in the sales process- the showing. Download one of our listing brochures for a sample.

Preparing to List and Show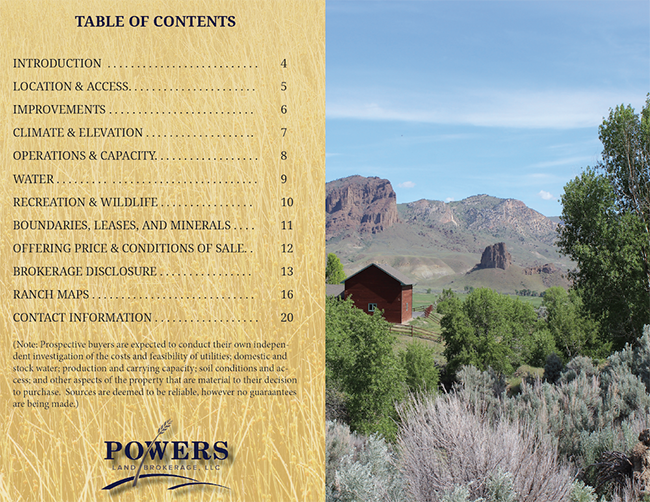 Planning out your family's financial goals and evaluating potential tax consequences can't be overstated as an important step in preparation. Talk with your accountant or financial planner as there are many strategies to maximizing the retention of your hard earned investment dollars. Powers Land Brokerage will integrate your properties marketing plan accordingly. This can be an emotional experience and as a generational ranch owner himself, Charlie Powers, understands the importance legacy properties mean to every member of the family. We have found that early and often communication can help diminish friction as the process unfolds.
It is our policy that a Broker will be with all prospective buyers who visit your property. Work with your Broker to identify the best features of your property so the marketing reflects those incredible moments you cherish because prospective Buyers will too. Your property will show best when it shows pride of ownership, however this is not to say it has to be immaculate. A good Broker will gather water rights; leases and government agency agreements; soil surveys; mapping of improvements; easements and encumbrances; and production records. Your help in locating these documents or providing your points of contacts will prove to be a big benefit to representing your property in the best light possible. This is a Team effort.

PRICING, OFFERS, AND POST SALE
Brokers will try to buy listings by recommending a list price higher than the market will bear. This is often counter productive as a general rule because frequently a Seller can net more on the sale when priced right rather than priced high. When the offer(s) do come in there is more than price to consider and this is where a good Broker really pays off. We recommend engaging your legal and tax counsel as a part of your team. An inspection, or due diligence period, will follow until the earnest money becomes non-refundable and the parties proceed to closing at the local title company. Powers Land Brokerage will be there with you every step of the way!